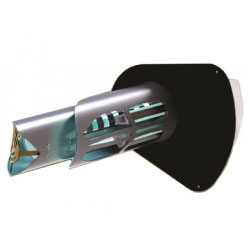 Reduce common allergy triggers from particulates such as pollen, mold spores, dander and dust. Thoroughly tested on airborne and surface bacteria & viruses, such as MRSA, e-coli, and Norwalk, to name a few.
The award winning REME HALO® whole home in-duct air purifier is the next generation of indoor air quality (IAQ) technology and capable of purifying every cubic inch of air that your central air conditioning system reaches. Designed to eliminate sick building syndrome risks by reducing odors and air pollutants, the REME HALO® whole home in-duct air purifier is the best solution for whole house and building air purification.
Dual ionizers to reduce airborne particulates (dust, dander, pollen, mold spores)
Kills up to 99% of bacteria, mold and viruses
REME® reduces sneeze germs by 99% in the time a sneeze can reach three feet.
New zinc ions kill 99% of viruses on surfaces
Unlike portable units that are limited to the room in which they are placed, the REME HALO® provides whole home and building purification.
Easily integrated with your existing HVAC system. The unit doesn't take away living space and operates silently.
Two (2) quick release features for easy, no tool, cell replacement
Incorporates an adjustable shroud around the REME® cell, which allows customization of the advanced oxidation plasma output.
Invented to recreate nature's process of purifying the air, it's like bringing fresh outdoor air inside without ever having to open your windows. And it's effective against all three categories of indoor air pollutants: Particulates, Microbial and Gases.
Learn More About the REME HALO
Book Serivce
At Temp Mechanical is Here for You
---
We Proudly Service Cook & Dupage Counties
At Temp Mechanical is your local comfort expert! When it comes to quality work, satisfied customers, and high efficiency comfort systems, At Temp Mechanical is your one-stop-shop! We are dedicated to our community's comfort!
Call us today when you need heating, air conditioning, water heating, indoor air quality, home automation, or commercial HVAC services! We are ready to help you with any comfort system service need you may have!
Heating System Services

Furnace Maintenance, Repair, & Installation
Ductless Mini Split Maintenance, Repair, & Installation
A/C System Services

Air Conditioner Maintenance, Repair, & Installation
Ductless Mini Split Maintenance, Repair, & Installation
Water Heating System Services

Tankless Water Heater Maintenance, Repair, & Installation
Tank Water Heater Maintenance, Repair, & Installation